Establishment of Dabong District Council
Dabong District Council was established on January 1st 1979 following the restructuring of the Dabong Local Council, Manek Urai Local Council and Kuala Balah Local Council under Act 1976 (Act 171) covering 1978 km² including the districts of Dabong, Kuala Balah and Olak Jeram.
The council's establishment was based on the government's policy of empowering local authorities to be more functional and effective, in administration as well as implementation of projects for the benefit of the local community. Based on the 1980 census, the Statistics Dept reported a population of 29,473 people.
Location of Dabong District Council
Click on picture to enlarge
Administrative Reach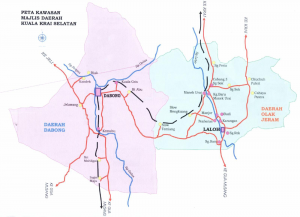 Click on picture to enlarge