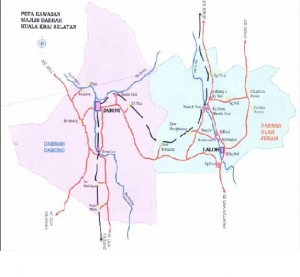 Dabong is a small town located in Gua Musang, Kelantan. Its 155 km from the state capital, Kota Bharu. Located nearby are Kemubu, Kuala Geris, Bukit Abu and Kampung Durian Badak.
This area is surrounded by hills on all four sides, making it effectively a valley. On the southwest, you will find Mount Setong ( 1422m ). Sungai Galas runs through Dabong.
From here, you can reach Gua Musang, Poring and Cameron Highland, but the roads are rather narrow and dangerous. Dabong is known by visitors as the gateway to eco-tourism hotspots in Kelantan.
There is also a rail line laid through Dabong which stops at Dabong Railway Station.